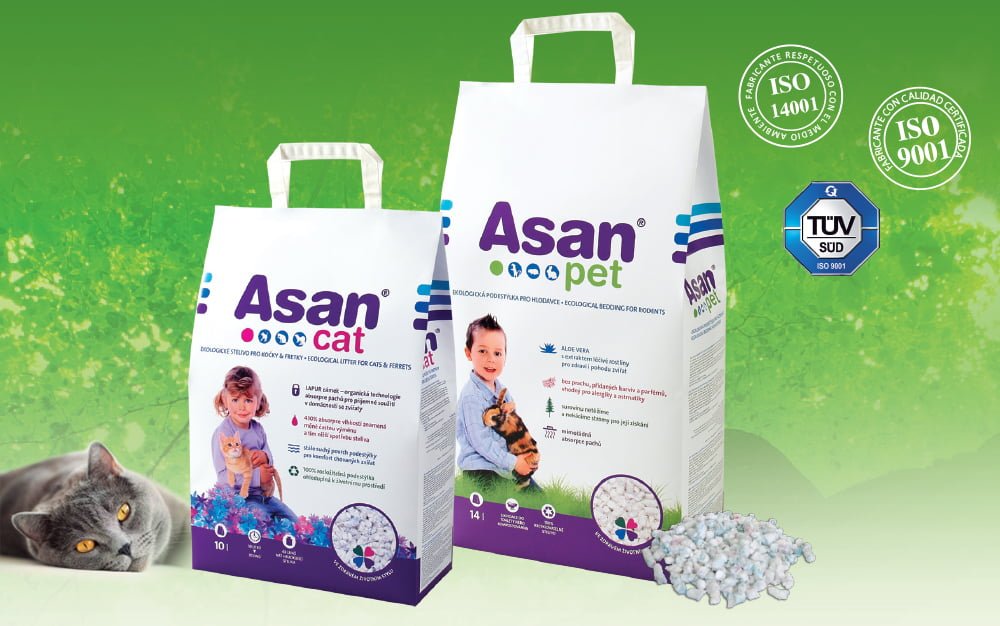 Made of pure cellulose, with no chemical residues, absorbent and ecological.
ASAN is a unique product at an unbeatable price. No other product is capable of competing with it offering the same features
. It is produced in the European Union with a very high quality at a
low price
.
Made of pure cellulose

ASAN is made of pure cellulose, it contains no residues of inks, adhesives, plastics or other chemical products as in the case of recycled paper litters.
This can be seen by its intense white colour, which proves its purity, quality and cleanness. ASAN has an ISO:9001 certificate to support its quality.
Harmless

ASAN is not harmful when in contact with the skin or if swallowed.
 It is totally harmless if swallowed, as it is easily decomposed by the digestive system.  What is more, it contains no dust, added dyes or perfumes.  It also limits the growth of bacteria and fungi, contains no pathogenic agents and can even be used by people and animals with allergies and/or asthma.
Environment-friendly

ASAN is 100% environment-friendly
. It contains no raw materials extracted from mines and no trees are cut down expressly to prudce this product.  Totally pure cellulose is used, making the end product 100% biodegradable. ASAN has an ISO:14001 certificate to attest that its production is environment-friendly.
ASAN can be flushed down the toilet
or used as compost because it is non-toxic and quickly degradable.
Great absorption power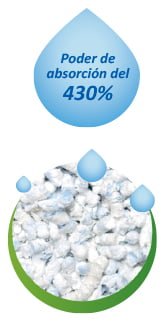 ASAN has an absorption power of 430%
, which means much less frequent litter replacement and, therefore, greater savings from lower consumption. On average, 5 times less consumption than other mineral litters.  The top layer of the litter also remains dry, making it more comfortable for pets.
ASAN is available in two formulas to suit the needs of different animals.

1. The cat formula (ASAN CAT)
Containing LAPUR technology, which is a patented technology produced by ASAN. This is an organic substance with an extraordinary capacity to absorb odours.
This makes the formula ideal for Mustelidae such as Ferrets.

2. The rodent formula (ASAN PET)
Containing biological ALOE VERA extracts to guarantee the health and wellbeing of small pets.  The great health benefits of ALOE VERA are very well known. Among other characteristics of this plant, it contains Aloetin that neutralises the effect of toxins, Caricin that boosts the immune system, Mucilage that generates an emollient activity on the skin, Saponins that are antiseptic, Phytosterols that are anti-inflammatory, Plant hormones that stimulate scarring, Enzymes that help stimulate the body's defences, etc. Remember that cats visit the litter tray specifically, whereas small pets such as rodents live alongside it and remain in direct contact with the litter through their skin, paws, fur, etc.  Choosing a high quality litter is essential for the health of these pets.