Article
Discover how we work to ensure the fish reach your shop in perfect condition
We work hard every day to ensure the quality of our fish and to offer the latest products in the market
When we started to sell fish Tropical Center was a true challenge, as this company was started due to the enthusiasm for fishkeeping of its founder and current CEO, Gaspar Cabrera Roca. Yes, we were expert fish keepers, but not to such a great extent! So, in 1990 when Tropical Center was founded, we had just 70 varieties of fish. From there we started to grow and evolve, seeking new improvements and innovating… All of these headaches and experience have led us to become
one of the largest fish facilities in Europe
, currently with 10 lines of aquariums with 200 tanks holding 350 litres per line, plus 350,000 litres in the 10 water cisterns,
which means that our fish are swimming in over one million litres of water
.
Latest innovations

 



One of our latest innovations was the incorporation onto 
the sides of the cisterns of heating cables to control the
 temperature of the water in each line of aquariums by 
computer. Hence, the line of coldwater aquariums is 
at 18ºC, the tropical lines at 24ºC and the discus 
line at 28ºC. 

All aquariums have direct sunlight, the amount of which 
is controlled by thermal blankets on the ceiling 
that open and close automatically depending on the 
light and temperature at any given time.
Why our fish are a guarantee of quality for your shop
All fish are fed with granulated
Tropifish
food, the immune-stimulants of which increase the defences of the fish and provides them with great vigour and colour. In addition to their food, they are also given
frozen ICA food
.
All of our fish go through a strict quarantine of at least 7 days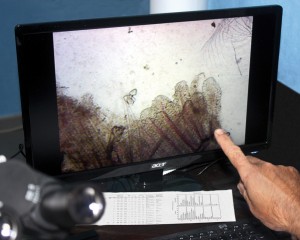 We guarantee that all of our fish are given a
quarantine of at least 7 days
and that the tanks in quarantine or holding sick fish are blocked by the computer so that we never sell sick fish.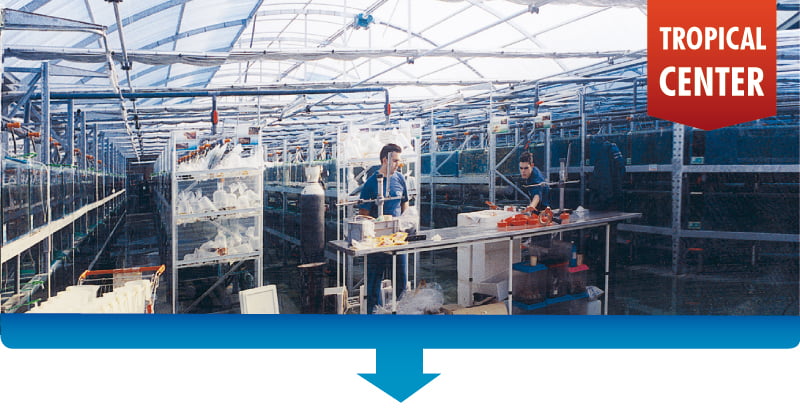 The collection and transportation process
When fish are sent to shops, they are put under considerable
stress
– first by being chased and caught by a net in the aquariums, which causes them to panic considerably, and then by being crammed into
transport
bags with other fish of the same species, which sometimes attack each other. Often subjected to sudden movements during transportation and affected by the large amount of ammonia that fish excrete through their gills and that accumulates in the small bags.
To avoid all this, we add a special fish sedative to the w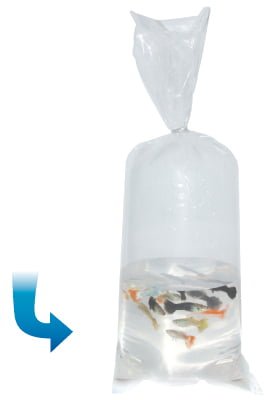 ater in the bags that calms them and eliminates any stress. We also add Amquel Plus that totally neutralises all of their ammonia.
All of this means that the fish reach the shops in perfect condition. Of the 2,000 350-litre aquariums in the 10 lines of 200 aquariums each,
200 aquariums are for coldwater fish
(carassius and kois) and
1,800 for tropical fish
. Furthermore, in an independent facility we have over
300 saltwater aquariums
holding between 500 and 10 litres that are for marine fish and invertebrates and are equipped with the most advanced and powerful urea skimmers, UV lamps and ozonisers to guarantee optimum water quality and
50 terrariums for reptiles
and
amphibians
. We also have a large area devoted to
aquatic plants
with a capacity to store over 150 different species.
Our varieties of fish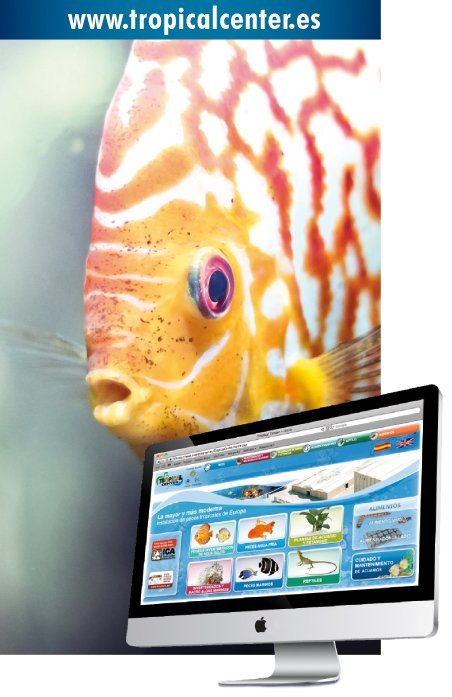 At Tropical Center we pay special attention to selecting suppliers that sell fish of the appropriate size, colour and characteristics for the species.
Our stock includes
:
Over 480 varieties of tropical fish.
Over 220 varieties of saltwater fish.
Invertebrates and brackish water fish.
Over 150 varieties of aquatic plants.
You can consult the actual stock of fish and plants available at any given time on our dynamic website.